The zip-around city is convenient with a classic or a contemporary moped. It makes motorized scooters popular throughout the world. In this regard, we provide exclusive moped for sale in Grand Prairie, Dallas, TX. All the moped we offer for sale in Dallas, TX, offer great convenience & comfortable while driving. They are known for cost-saving and fuel efficiency as well. We stock a wide range of 50cc automatic four-stroke mopeds, and they are the trendiest vehicle for almost anything- from sightseeing in style to roam in the city to commute in the town. It is convenient for riders of every age and gender.
We at 360 Power Sports are working hard to build the country's most comprehensive online power sports platform. They've added numerous range of two-wheelers moped for sale in our product line as a part of our business expansion. Mopeds come with a wide variety of sizes, engine performances, colors, and styles, and right now it has a tremendous demand in the market. Are you deciding to commute around the town, go for work or study, or any purpose in Grand Prairie, Dallas, TX? Then procuring a super stylish moped from our online shop works best for your needs & budget.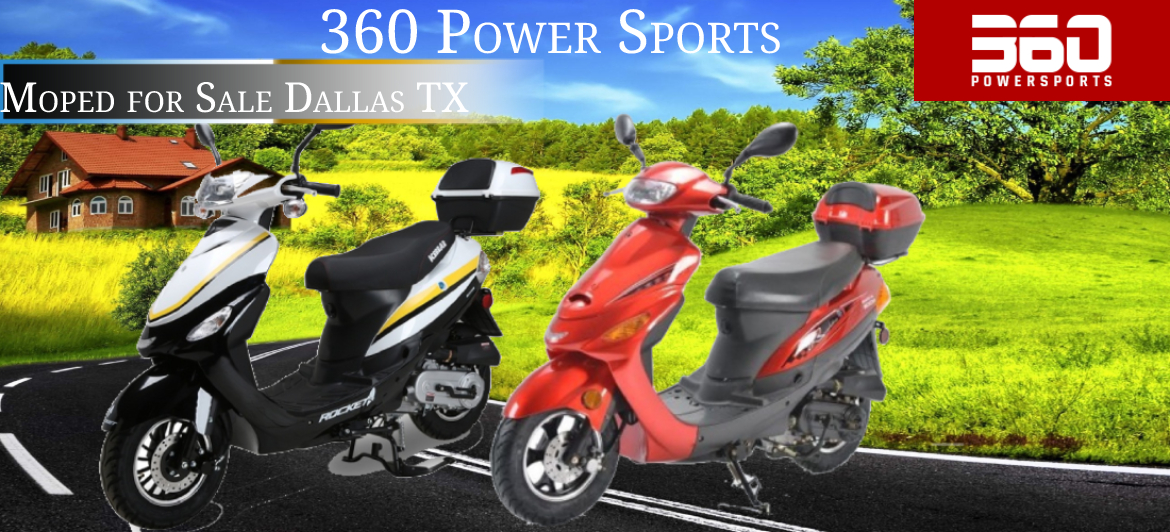 Buying a moped is stressful, and each step matters a lot. It is imperative to scrutinize several details to avoid unpleasant surprises while purchasing a new moped as a buyer. Mentioned here are a few tips and advice that help you make a better decision before buying a moped. Making few critical decisions regarding types of moped and their engine capacity matters much before buying a scooter online.
Type of moped: you should choose the right moped, and it should be based on your needs and preferences. Mopeds are available in various shapes, sizes, styles, and colors; consider your personal needs before choosing the right one for you.
Engine capacity: Carefully select the engine capacity as per the purpose of riding. We hold higher engine capacity mopeds that will give higher power and have a 50cc engine capacity with lower fuel efficiency. A 50cc moped is best for lightweight or average weight riders & has a maximum speed of 25MPH. 110cc mopeds have a higher speed rate and engine than 50cc and have a top speed of 56MPH for the average rider. These are good to ride on city roads and beyond that (short rides only). The maximum speed of a 150cc moped is up to 70MPH. It is suitable for average riders and best for people who can't avoid the occasional highway rides with higher speeds.
Buying a second-hand moped comes with a lot of unknown risks. It will involve some hidden maintenance costs as well. Apart from that, its performance would have been depreciating since the moment it is ridden. Determine the condition of various parts like brakes, tires, chains, or more. Isn't it wise to visit our website and select a new one at the most affordable price you will ever find anywhere? We offer many options under new mopeds assure you provide the most preferred one you think of buying. Customers can now buy their preferred two-wheeler moped & scooters and other motorbikes in a single visit. We offer more affordable moped for sale in Grand Prairie, Dallas, TX.
Our entire moped selling process takes less than an hour—including document verification, technical inspection, and transportation. Our proprietary live-action helps you fetch the best price. In addition to it, we offer a hassle-free home delivery option right at your doorstep.